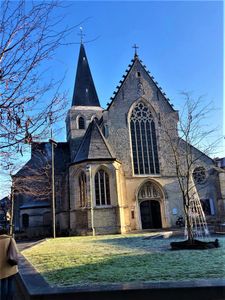 Source: Willem Vandenameele
Source: Willem Vandenameele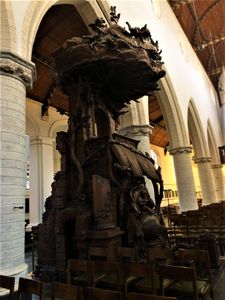 Source: Willem Vandenameele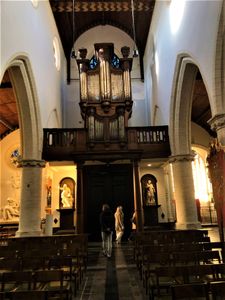 Source: Willem Vandenameele
The Sint-Katelijnekerk was historically built in a poorer area of Mechelen and dedicated to Saint Catherine.
The Gothic style church, mostly built in the 14th century , was completely renovated around 1400-1450. The Fontes Chapel was built in the 16th century. The name probably refers to the wealthy patrician Fontes family. In 1643 Isabella Danesin financed the construction of the Chapel of Saint Joseph. Between 1647 and 1651 he commissioned the renowned Mechelen sculptor and architect Lucas Faydherbe to construct a Baroque marble altar .
In the 18th century the church was richly decorated. The current austerity that characterizes the church is the result of a deep restoration campaign in the late 19th century neo-Gothic tradition by Philippe Van Boxmeer.
The pulpit references the Sagrada Família and the veneration of popular saints such as Catherine and Anthony.
Especially Santa Caterina stands out in the church. She refused to give up her Christian faith, which resulted in multiple tortures , including being tied to a wheel. There are numerous references to Catherine in the church: twelve rosettes in the nave, as a reference to Catherine's torture device and a beautiful rosette on the facade.
More about this place of interest
This place of interest on your website

<iframe src="https://plugin.routeyou.com/poiviewer/free/?language=en&amp;params.poi.id=8424903" width="100%" height="600" frameborder="0" allowfullscreen></iframe>

Try this feature for free with a RouteYou Plus trial subscription.