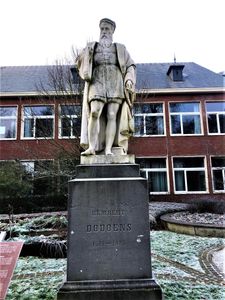 Source: Willem Vandenameele
In the middle of the botanical garden stands the statue of the famous scientist Rembert Dodoens , Latin: Rembertus Dodonaeus.
His father , Denys Dodoens, came to Leuven to study medicine. After his studies he became the city doctor in Mechelen. There he built up a very good network, so that he was even allowed to care for Margaret of Austria on her deathbed.
In 1541 he became a doctor in the city of Mechelen; He studied the local flora and started his own botanical garden . Dodoens took a keen interest in botany to support his practice as a doctor.
Dodoens' first major contribution to botany was that he himself began to search for and describe plants . This led to an enormous increase in the number of species described. He himself described about 1340 species , of which about 600 were new .
The second innovation is that he did not follow the monks who claimed that a medicinal plant had a "sign" from which the effect of the plant could be deduced. He always tested new drugs thoroughly and accompanied patients for a long time to study the effects of a drug.
The third major development at Dodoens was that he introduced a fundamental innovation in the classification of plants. In his Cruydeboeck of 1554 he decidedly broke with tradition by not arranging the plants alphabetically but according to their external characteristics.
Source: Willem Vandenameele - Wikipedia
More about this place of interest
This place of interest on your website

<iframe src="https://plugin.routeyou.com/poiviewer/free/?language=en&amp;params.poi.id=8424963" width="100%" height="600" frameborder="0" allowfullscreen></iframe>

Try this feature for free with a RouteYou Plus trial subscription.