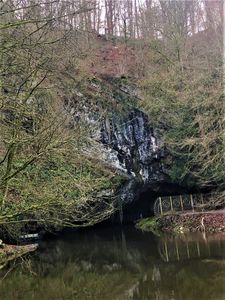 Source: Willem Vandenameele
This is the exit from Han's caves, through which Lesse comes out again. As the crow flies, the river has disappeared 1100 meters deeper into the rocks and it takes 20 hours to get there. The current is limited and when there is too much water in the river, it seeks an outlet around the rock massif.
At the exit of the cave, the traditional boat ride has been replaced by a footpath for sightseeing. This is why a weir lock was built here in the past: the water was held back to make it easier for boats to maneuver.
The first mentions of the cave come from the 16th century. In 1817 the first step from the entrance to the Ujitgang takes place. The first visitors' handbook was published in 1828 . Women are advised to wear short skirts and boots . It is best to cover your head with a hat. It is helpful to wear gloves and equip yourself with a walking stick . It is also advisable to bring matches, candles, a bottle of wine and bread. A visit of at least six hours is recommended to get a good idea of the size of the cave and the variety of rooms.
More about this place of interest
This place of interest on your website

<iframe src="https://plugin.routeyou.com/poiviewer/free/?language=en&amp;params.poi.id=8425550" width="100%" height="600" frameborder="0" allowfullscreen></iframe>

Try this feature for free with a RouteYou Plus trial subscription.