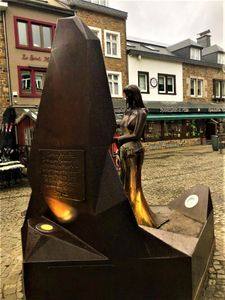 Source: Willem Vandenameele
It is a statue by Claude and Nicolas Son and represents Berthe van La Roche .
The legend of Berthe de La Roche:
Berthe, daughter of the Count of Montaigu, does not know whom to choose from among several applicants. Gifted with exceptional beauty , she is pressured by her father, who feels old .
He organizes a big tournament in which the winner must win the young woman's hand. Only one candidate is presented, Count Waleran de Montaigu , despite being engaged to Countess Alix de Salm . He's so strong and formidable that he hasn't lost a fight yet. None of Berthe's many admirers dare to stop him. Berthe is calm; she is madly in love with Waleran! But suddenly a horseman with a funny look appears in the courtyard of the castle : He is small, looks inconspicuous and is dressed all in black . When the Count of Montaigu sees this, he starts laughing: The fight won't last forever!
With a mighty clank of iron, his charger thrown into full gallop , Waleran charges his weak foe; he is armed only with light armor and his horse is unprotected by armor . With great skill, with a single leap, this gentle mount dodges the Count's violent impact.
Montaigu turns and attacks his veteran rival again. Multiply the punches to no avail. The little knight controls his horse, stops and waits in an upright and defiant stance. At the end of his ligature, the Count rushes towards him and uses all his strength to crush his adversary with his sword... in vain! On the track, he loses his balance and hits the ground with his gun. The stranger takes advantage of this to slit the fearsome Count's throat in one fell swoop. The winner is congratulated and led to his future wife in the wedding hall.
The next day, the father discovers an open window in his deserted room . He looks down and sees two spots on the rock below the Ourthe: one was black, the other white.
The mysterious lord was none other than Countess Alix de Salm , who, in this disguise and after a pact with the devil, had taken revenge on the Count of Montaigu and the beautiful Berthe de La Roche...
Since then, on windy nights, the ghost of Berthe de La Roche wandered desperately through the fortress. Every evening, from early July to late August , the spirit of this 10th-century legend appears in the form of a sound and light show. Fireworks will accompany it on the last Saturday of August 4th. The show will not take place in the event of rain and/or strong winds.
More about this place of interest
This place of interest on your website

<iframe src="https://plugin.routeyou.com/poiviewer/free/?language=en&amp;params.poi.id=8426662" width="100%" height="600" frameborder="0" allowfullscreen></iframe>

Try this feature for free with a RouteYou Plus trial subscription.