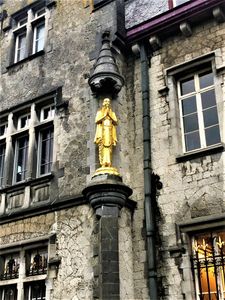 Source: Willem Vandenameele
Radhadesh is located in the Petite Somme Castle .
Radhadesh is a non-profit organization. It is the main center of the International Society for Krishna Consciousness (ISKCON) in the Benelux. More than 100 people live here in the community.
The teachings and practices of ISKCON were taught and systematized by Sri Caitanya, a 15th-century saint and religious reformer .
The founder of ISKCON, AC Bhaktivedanta Swami Prabhupada, established the community in 1966 . Most ISKCON members practice their faith at home and live and work in society, visiting temples for special occasions such as festivals or weekly gatherings. The community has such centers almost all over the world and is dedicated to spreading spiritual culture.
More about this place of interest
This place of interest on your website

<iframe src="https://plugin.routeyou.com/poiviewer/free/?language=en&amp;params.poi.id=8426707" width="100%" height="600" frameborder="0" allowfullscreen></iframe>

Try this feature for free with a RouteYou Plus trial subscription.