Author: Rutes científiques de Barcelona

| | Public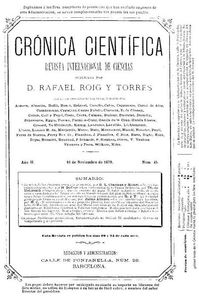 Source: Cover of an issue of Crónica Científica, published on November 10th, 1879.
Building:

Crónica científica, revista internacional de ciencias was a biweekly journal that appeared in 1878 and lasted until 1892. It was managed by the Dr. Rafael Roig i Torres, on Fontanella Street, number 28, Barcelona. He was an outstanding man that belonged to the Catalan agricultural management. He also defended the scientific modernization of the country, which he saw as a necessity in order to increase productivity, and he exhibited a great interest in the paleontology of the Catalan Tertiary.
Natural history:

In 1883, Jaume Almera published in Crónica científica an article titled 'A very important finding. The presence of the Mammoth (Elephas primigenius) in the Baix Llobregat' in which he explained the discovery of the tusk we have previously seen in the Museu de Geognosia i Paleontologia del Seminari Conciliar de Barcelona. It was the first finding of an extinct mammal found in Catalonia and it was made known through a scientific journal. The scientific journal was an instrument for scientific communication at the end of the XIXth century, a century with a great proliferation of the written press. In fact, the great diversity of publications and the emergence of journals specialized in scientific contents contributed to the progressive establishment of a professionalized science and the creation of new scientific elites.
Jaume Almera not only used the platform Crónica Científica offered to inform of new scientific discoveries and to gain recognition, but also to express his thought. It was through this journal that Almera, with José Joaquín Landerer and Artur Bofill, exposed their 'alternative' Catholic discourse which received more than a few critics from the Catholic circles of Madrid. They attempted to conciliate science and religion, although reason would always be subsumed to faith. Science and religion weren't incompatible. Thus, this history ends by adding a nuanced explanation to the discourses that nowadays speak to the incompatibilities between them as if they had not shared a long past together.
Links:

Sala Catalá, J. "Ciencia biológica y polémica de la ciencia en la España de la Restauración". En Sánchez Ron Ciencia y sociedad en España. El arquero/CSIC. Madrid, 1988.
More about this place of interest
This place of interest on your website

<iframe src="https://plugin.routeyou.com/poiviewer/free/?language=en&amp;params.poi.id=2348398" width="100%" height="600" frameborder="0" allowfullscreen></iframe>

Try this feature for free with a RouteYou Plus trial subscription.