Author: Rutes científiques de Barcelona

| | Public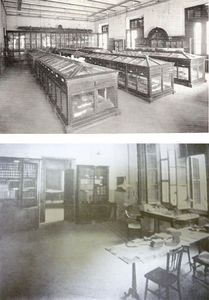 Source: The Museu Geològic del Seminari in 1912. Source: Arxiu del Museu Geològic del Seminari Conciliar de
Building:
The Seminari Conciliar de Barcelona moved to its current building on Diputació Street in 1882. The building was planned by the architect Elies Rogent. The work began in 1879, during the pontificate of Urquinaona's bishop, and was officially inaugurated on December 4th, 1904. Rogent's original project had planned for the creation of a Museo de historia natural that included a meteorological and astronomical observatory, a botanical garden and a physics cabinet. The roots of the museum reach back to 1874 when the canon Jaume Almera was responsable for forming a Museu de Geognòsia in a temporary building on Tallers Street.
Natural history:
In 1882 the Museu de Geognosia i Paleontologia del Seminari Conciliar de Barcelona was inaugurated under the direction of the canon and professor of Geology and Paleontology, Jaume Almera. He was one of the most relevant naturalists from the scientific panorama of the city during the second half of the XIXth century and the first third of the XXth. Among other things, he promoted the creation of the Geological map of Catalonia. The museum occupied a "roomy hall of 17.5 meters long by 11.5 meters wide" in which were exhibited a great variety of natural objects, like a rich paleontological collection of the Catalan Tertiary.
One of the objects that one could observe was a tusk of a mammoth discovered in 1883 on the Quaternary floor of Sant Vicens dels Horts. Some farmers had found a fragment 50 centimeters (cm) long and 13 in diameter on the banks of the Llobregat river. They thought it was a petrified tree trunk and it was broken into two halves: one of which was brought to Almera and then exhibited in the museum. This fossil was a piece of evidence for the existence of a great –antediluvian- elephant from a past Earth which disappeared with the Flood. Since the end of the 1870s, Almera and the network of Catholic Catalanist naturalists took a moderate position which tried to conciliate the sacred text and the postulates of modern paleontology which, among other things, denied the universality of the Flood.
Links:
Museu Geològic del Seminari: http://www.mgsb.es
Bohigas, J. (2010) Per Déu i per la Ciència. L'Església i la ciència a la Catalunya de la Restauració (1874-1923): http://dugi-doc.udg.edu/handle/10256/5863
Address
de la Diputació, 231, Barcelona, Spain
More about this place of interest
Try this feature for free with a RouteYou Plus trial subscription.