Author: Rutes científiques de Barcelona

| | Public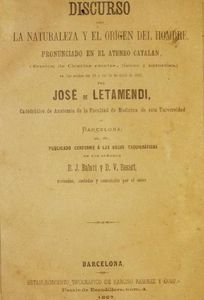 Source: Cover of the discourse "La naturaleza y el orígen del hombre" pronounced by Letamendi in the Ateneo
Building:

The Ateneu Barcelonès is an association founded in Barcelona in 1860 (under the name of Ateneo Catalán) which, in 1872, fused with the Casino Mercantil Barcelonès (founded in 1869), another cultural and recreative society. In 1906 the Ateneu moved to its current headquarters, known as Palau Savassona, on Canuda Street. The building of this majestic house was constructed in 1796 by Josep Francesc Ferrer, baron of Savassona, following the trends of the urban palaces of Catalan gothic art.
Natural history:

The ateneums were institutions typical of the XIXth century that, with the establishment of a liberal model of society, became places for debate and talk, and centres for the communication of modern science and culture. One of the statements in the statutes of the Ateneu was that political subjects were explicitly prohibited from discussion. The inaugural discourses, as well as the conferences of its members, are a fantastic source for observing the evolution of thought and culture in Catalonia.
In the scientific field, in 1867, José de Letamendi (1828-1897), physician and member of the Sección de Ciencias exactas, físicas y naturales of the Ateneo Catalán, imparted several conferences under the title "La naturaleza y el origen del hombre" ("The nature and the origin of man"). This was the first 'serious' comment on Evolution made in Spain. Until then the only allusions made to the evolution of species were done in the humouristic field, like with the cartoon "Escala de las transformaciones" ("Stairs of the transformations") which appeared in 1863 in the satirical journal "El Museo Universal".
The Catalan physician criticized the mutability of species from a tomist perspective, which was linked to a general attack against monism, with furious disapproval and condemned it to the materialism incarnated by figures like Comte, Lamarck, and Darwin. In the introduction, Letamendi disdainfully said: "What is the matter about? It is about if we descend or not from the beasts, isn't it? Well: ... frankly, I don't find any reason to disturb either Moses nor the Saintly Fathers with these trifles".
Links:

Letamendi, J. 'Discurso sobre la naturaleza y el orígen del hombre': pronunciado en el Ateneo Catalan, sección de ciencias exactas, físicas y naturales, en las noches del 13 y del 15 de Abril de 1867: http://diposit.ub.edu/dspace/handle/2445/13040
Address
Carrer de la Canuda, 6, Barcelona, Spain
More about this place of interest
This place of interest on your website

<iframe src="https://plugin.routeyou.com/poiviewer/free/?language=en&amp;params.poi.id=2348394" width="100%" height="600" frameborder="0" allowfullscreen></iframe>

Try this feature for free with a RouteYou Plus trial subscription.