Author: Rutes científiques de Barcelona

| | Public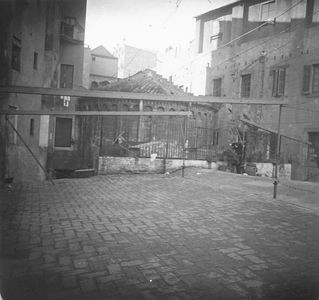 Source: Saint Lazarus in Barcelona (1925). Author: Josep Salvany i Blanch. Source: Biblioteca de Catalunya.
Building:
The Curch of Saint Lazarus is one of the most ancient monuments of the city. Built up during the XIIth century as the Curch of the Virgin of the Sick, this primitive Romanic chapel is the only vestige that remains from the old Hospital of the leprous sick, or leprosy, founded by the bishop Guillem de Torroja (1144-1171). During the XIVth century, it was devoted to Saint Lazarus, the new patron saint of the leprous. With the opening of the General Hospital de Santa Creu, Saint Lazarus became a subsidiary, existing until the beginning of the XXth century.
Health:
This urban itinerary begins in a place outside the city, amidst fields and vegetal gardens, where the Hospital of the leprous ills was established during the XIIth century, specializing in isolating people affected by leprosy. Occupying a wall of the Pedró square and the length of the current Carme Street, this hospital was placed on the crossroads of the roads that went to Portaferrissa (gate to the city by Carme Street) and Porta de la Boqueria (gate to the city by Hospital Street).
Beyond the city walls, the main access to the city on the Western side was the Via Moresca (today Sant Antoni Street), which was home to hospitals, brothels and hostels for travelers, merchants and pilgrims. All those establishments "should be opposite that that air which most occupies the city", claimed Francesc Eiximenis (1330-1409), noting the convenience of maintaining away from the city both the sick and the travelers –foreigners and other people suspicious of suffering an illness- which had to be kept in quarantine.
The hospital devoted to leprosy was, in general, the farthest from the city center. The main reason to isolate the leprous concerned the social rejection that that illness instilled and the fear of contagion. This explains the apparition of this type of specialized institution that was positioned far away from any inhabited place. These institutions looked after and isolated the leprous as a health measure to avoid leprosy from reaching the city.
Links:
Cirici Pellicer, A. Barcelona Pam a Pam. Comanegra. Barcelona, 2012
.


Autor:


Address
Plaça del Pedró, 2 bis, 08001 Barcelona, Spain
More about this place of interest
This place of interest on your website

<iframe src="https://plugin.routeyou.com/poiviewer/free/?language=en&amp;params.poi.id=2348379" width="100%" height="600" frameborder="0" allowfullscreen></iframe>

Try this feature for free with a RouteYou Plus trial subscription.