Author: Rutes científiques de Barcelona

| | Public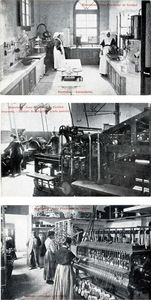 Source: Postcards of the Casa provincial de Caritat. Source: Arxiu històric de la Diputació de Barcelona.
Building:

La Casa de la Caritat (House of the Charity) is an old institution of beneficence founded in 1802 and settled in the building of the old Seminari Conciliar de Montalegre, in an area still hardly urbanized. Devoted to holding the disabled, outcasts, old, poor and disfavored people, during the XIXth and XXth centuries, this house was like a little city. Its charitable mission, influenced by the hygienic movement, was thought of as a center of training and work. A proof of this activity is the typographic machine still preserved in the Manning courtyard. The house functioned until 1957 when the installations moved to Llars Mundet.
Health:

The Casa de la Caritat was created by the Royal Order of Carles IV, in 1802, with the aim of reducing the misery of those in the city and it was one of the most important charitatable institutions in the country during most of one century and a half. It was settled in an area that just then was beginning to be populated by some industries, workshops and apartments. The Casa was almost completely self-funded with the celebration of fairs, masked dances and contests and, later, with the fabrication of materials and products.
The introduction of the hygienic movement in society favored a change in the mindset of charity that focused more on training and employment rather than on the simple Christian assistance of the poor or disfavored. That is, it tried to offer a productive activity to the more disfavored social masses, which included destitute people, vagabonds, epileptics and the disabled. This house became a complex ensemble of buildings that counted on an average population of 2,000 people.
The activities developed by the staff were numerous and they contributed to the self-sufficiency of materials and products. There were workshops for woodworking, printing, food manufacturing (cookies, bread, pasta) and textiles (cotton, clothes). These workshops were especially useful for the training of the young, which, by learning a profession, could find a professional occupation once they left the asylum. The working hours were strict and the holidays scarce, especially for the women, who could only leave the enclosure on Sundays.
One of the most productive workshops was the school of printing, which began its activity with the acquisition of machinery in 1872. A testimony of this activity is the typographic machine preserved in Manning courtyard. Among the diversity of titles of regular publications printed, there was the Gaseta Municipal and the bulletins of the Centre Excursionista de Catalunya and the Ateneu Barcelonès.
Links:

De la Casa de la Caritat al CCCB (Centre de Cultura Contemporània de Barcelona): http://www.cccb.org/ca/casa_caritat_al_cccb
Address
Carrer de Montalegre, 5, Barcelona, Spain
More about this place of interest
Try this feature for free with a RouteYou Plus trial subscription.