Author: Rutes científiques de Barcelona

| | Public | Catalan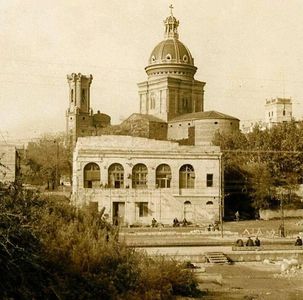 Source: Sant Andreu Comtal station in the early 20th century.
Introduction:
Sant Andreu Comtal station is currently the oldest operating station in Spain. Built as part of the link between Barcelona and Granollers, this station began to function when the second Catalan rail line was opened in 1854. The first, in Catalunya, was the Barcelona-Mataró rail line which opened in 1848.
Content:
On 23 July, 1854, the Railway from Barcelona to Granollers opened, with a stop in the town of Sant Andreu de Palomar. The name of Sant Andreu Comtal was given due to its proximity to the Rec Comtal and also in order to distinguish it from those stations that were built around 1910 near the intersection between Passeig Fabra i Puig and Avinguda Meridiana (Sant Andreu Arenal). The installation of all types of factories in Sant Andreu cannot be attributed just o the fact that the Rec Comtal crossed the town/neighborhood from north to south, it also depended on the accessibility of the railroad.
As a result of the Sant Andreu Comtal station construction, there was a redevelopment of the area and, in a short time, where previously there was only an old neoclassical tower (later transformed into a clinic) there was built the station square and a number of houses in the surrounding area.
Since 2009, the station has been under construction for the passage of the future high-speed line Barcelona-Figueres. The future station, semi-underground, will consist of two new buildings. Hopefully, this does not involve the demolition of the current building, which is part of the historical and industrial heritage of the city. Although, when the new station is built, Sant Andreu Comtal will no longer be the longest operational station in the state.
More information:
Jordi Petit i Gil (2014). "Sant Andreu Comtal, l'estació en funcionament més antiga d'Espanya". Sant Andreu de Palomar. [in Catalan]
Address
Barcelona
More about this place of interest
This place of interest on your website

<iframe src="https://plugin.routeyou.com/poiviewer/free/?language=en&amp;params.poi.id=2344855" width="100%" height="600" frameborder="0" allowfullscreen></iframe>

Try this feature for free with a RouteYou Plus trial subscription.