Author: Rutes científiques de Barcelona

| | Public | Catalan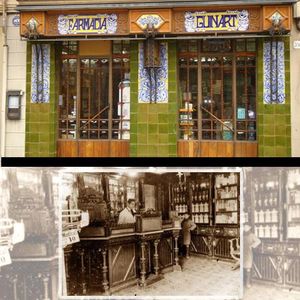 Source: Top image: Guinart Pharmacy current facade. Bottom image: Inside Franquesa Pharmacy, 1924.
Introduction:
On 22 October, 1511, La Concòrdia dels Apotecaris de Barcelona was published in Barcelona. This book standardised all the formulas that pharmacists utilized for their concoctions made from plants, animals and minerals. La Concòrdia was the first pharmacopoeia published in Spain and the second in the world. Even today there is a copy at the Faculty of Pharmacy of the University of Barcelona. Sant Andreu had a couple of pharmacies established in the 19th century, a time when these establishments not only sold drugs but also created them.
Content:
Pharmacy Guinart was opened to the public in November, 1896. The facade of the pharmacy remains the same as when it opened, with the wrought iron typical of the modernist style, with twisted forms; wooden doors, whose bottom was originally marble; convex wavy glass and a wooden grab handle decorated with wrought iron; and the pottery kilns, made in the Xumetra kiln of Sant Andreu. The signs have been restored following the exact model of the originals. The wrought iron lamp with colored glass and stained glass windows above the doors are also originals. Inside, one can see, in the public space, the Melis pinewood carpentry used for all the furniture. The counter is also the original, with white marble stained at the center because that was where the formulations were formerly made. The hard white porcelain jars are original and were used to store parts of medicinal plants with therapeutic properties. Many laboratory tools, old specialties, glass jars with ground glass stopper, and many documents are exhibited, as well as all the books of recipes from the very beginnings of the pharmacy.
More information:
Vídeo sobre la Farmàcia Guinart. [in Catalan]
More about this place of interest
Try this feature for free with a RouteYou Plus trial subscription.