Author: Rutes científiques de Barcelona

| | Public | Catalan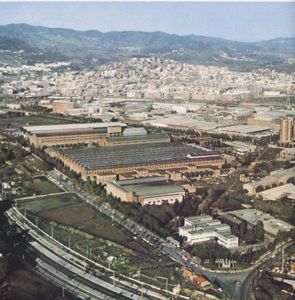 Source: Overview of La Maquinista Terrestre y Marítima (Sant Andreu de Palomar).
Introduction:
Founded in 1855, La Maquinista Terrestre y Marítima became an emblem of the Catalan metal industry. This company built the public markets in the Born, Sant Antoni, Hostafrancs, Barceloneta, la Concepció i la Llibertat (Gràcia), as well as the first locomotives in 1882, the floating dock in the Port of Barcelona in 1895, the first Tibidabo funicular (1901) and the roof of the new Estació de França on the occasion of the Universal Exhibition of 1929.
Content:
In 1918, La Maquinista Terrestre y Marítima bought 18 hectares of land in Sant Andreu. The new factory opened in 1920 equipped to make large-scale locomotives. During the Spanish Civil War, it was the first factory to be collectivized due to the need to stock up on weapons. The company, the largest Catalan metal industry, came to employ over 4,000 people and was a focus of union struggles throughout its history. It was said that "if La Maquinista rose up, Sant Andreu trembled".
Acquired by the multinational Gec Alsthom, which in 1993 moved to other workshops, the old Sant Andreu factory was demolished in 1997 to build a large shopping center, residential buildings and a park. At the centre of the park there is a lake, called Narcís Monturiol, where there is a ship-shaped iron building which currently houses the Historical and Social Museum of La Maquinista, or MTM Macosa Museum, opened in January 2000, which contains documentation, drawings, photographs, models and historical objects of the company. Rising from the lake also stands a wheel of factory machinery, positioned as if it were a sculpture. This is the first steam engine transmission wheel that the factory had used in its first location in the Barceloneta, which was taken to Sant Andreu in 1963 as a decorative element.
More information:
- Vídeo "La Maquinista Terrestre i Marítima va donar feina a uns 3.600 treballadors al Bon Pastor". [in Catalan]
- Laia Mestre (2012). "Un pasado metalúrgico y revolucionario". El Periódico, 20-06-2012. [in Spanish]
- Vídeo "Resistència obrera antifranquista a la Maquinista Terrestre i Marítima i Macosa 1939-1977". [in Catalan]
- Cándido (2011). "La Maquinista Terrestre y Marítima entre 1930 y 1955". [in Spanish]
More about this place of interest
This place of interest on your website

<iframe src="https://plugin.routeyou.com/poiviewer/free/?language=en&amp;params.poi.id=2345218" width="100%" height="600" frameborder="0" allowfullscreen></iframe>

Try this feature for free with a RouteYou Plus trial subscription.