Author: Rutes científiques de Barcelona

| | Public | Catalan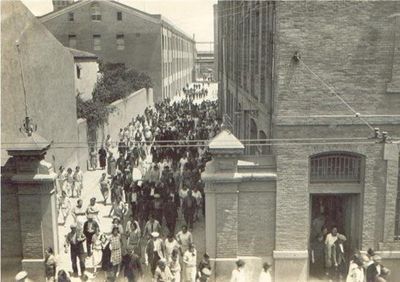 Source: Fabra i Coats workers in their exit by Carrer de Sant Andreu, 1934.
Introduction:
In 1903 Compañía Anónima de Hilaturas de Fabra y Coats was founded as a result of the merger of a number of companies engaged in textiles. In 1916, Hilaturas de Fabra y Coats consolidated all the Fabra's core factories in Sant Andreu.
Content:
Known as Can Mamella, most of the neighbourhood's population depended on Hilaturas de Fabra y Coats, not only for working, but for reasons related to healthcare and consumer events: the company offered health coverage and care to workers (such as a Tuberculosis Centre), a voluntary retirement pension, staff shop, dining rooms and all kinds of social and recreational activities in its own facilities. The Casa Cuna, a large nursery school for Fabra i Coats workers' kids –in the 40s-60s, highlights the fact that 80% of the 5,000 factory workers were women. So, the factory became an industrial pseudocolony. Fabra i Coats followed a philosophy of self-sufficiency which, added to its dominant position in the Spanish market in the early 20th century, helped it reach monopoly status.
In the decades of the 70s-80s, the company suffered a major crisis in the transitioning textile production process, dismissing workers and reducing the number of factories in Sant Andreu. In 1989, the land was sold, 14 000 m2 of it, for buildings for the city council, which demolished everything except the building known as Can Fabra. After many years of local demonstrations, between 1995 and 2002 there was inaugurated a square, underground parking, a cybernetic fountain, a library (Can Fabra) and a cultural center. In 2005, the last Coats factory in Sant Andreu was closed, and since then various neighborhood platforms have claimed the land for public use. Today, there is a nursery school called La Filadora (The Spinning Wheel), a "factory of creation", a contemporary art center and a self-managed Neighbourhood Centre. Now the Can Fabra Primary School is being built, as well as a secondary school, a health center and public housing.
More information:
- Jordi Rabassa (2007). "La memòria de la Fabra i Coats". [in Catalan]
- Vídeo "Els treballadors de la fàbrica de filatures de Sant Andreu tenien camp de futbol, pistes de tennis i piscina". [in Catalan]
- Vídeo "Les treballadores de la fàbrica de filatures Fabra i Coats tenien servei de guarderia per als fills". [in Catalan]
More about this place of interest
This place of interest on your website

<iframe src="https://plugin.routeyou.com/poiviewer/free/?language=en&amp;params.poi.id=2345220" width="100%" height="600" frameborder="0" allowfullscreen></iframe>

Try this feature for free with a RouteYou Plus trial subscription.