Author: Rutes científiques de Barcelona

| | Public | Catalan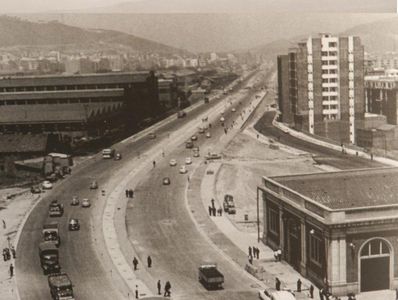 Source: Avinguda Meridiana beyond Passeig Fabra i Puig, northward directions, before 1975. Sant Andreu Aren
Introduction:
In the midst of the French Revolution, in 1791, given the variety of units of measurement used and the confusion that they often caused, the Paris Academy of Sciences proposed a measure based on nature. The basic unit of linear measures would be called the meter, and would be equivalent to a ten-millionth part of a quarter of the meridian. The Paris meridian was chosen and they decided to measure the arc between Dunkerque and Barcelona, which had an approximate arc size of 9,5º.
Content:
The geodesists Pierre François André Méchain and Jean Baptiste Joseph Delambre were responsible for making the measurement of the meridian. Delambre went to the section from Dunkerque to Rodez. For his part, Méchain arrived in Barcelona on 10 July, 1792. There are two commemorative plaques associated with this event, one in Barceloneta at the Torre del Rellotge, the old lighthouse, and the other in Montjuïc. These locations were selected because they were two of the points used in his triangulations. When Ildefons Cerda projected his city plan in the middle of the 19th century, he planned the creation of the Gran Via Meridiana, whose beginning coincides with the meridian used to establish the measurement of the meter.
The Pla Cerdà was approved in September 1860, and shortly after that a rail company used the path of the future Gran Via Meridiana for the passage of a railway line, which began circulating in 1863. In 1930, the work began on an underground railroad. The tunnel was already completed at the beginning of the Spanish Civil War, but excavation works were not completed until 1965.
To the west of the Sant Andreu Arenal station is, currently, the Parc de Can Dragó, sitting on the lands occupied by the railway workshops that gave service to the train line from Barcelona to Zaragoza.
More information:
- Ken Alder (2003). The Measure of All Things: The Seven-Year Odyssey and Hidden Error That Transformed the World. New York: Free Press.
- Denis Guedj (1997). La mesure du monde. Paris: Éditions Robert Laffont. [There is an English translation: The Measure of the world: a novel]
More about this place of interest
This place of interest on your website

<iframe src="https://plugin.routeyou.com/poiviewer/free/?language=en&amp;params.poi.id=2345226" width="100%" height="600" frameborder="0" allowfullscreen></iframe>

Try this feature for free with a RouteYou Plus trial subscription.