Author: Rutes científiques de Barcelona

| | Public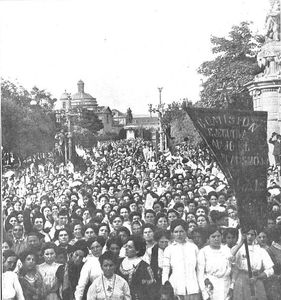 Source: Demonstration in favor of the rights of women in the early twentieth century.
Introduction:
On the first floor of Ferlandina Street number 20 was the home of the "Barcelona Center for Psychological Studies", one of the most active spiritists centers Barcelona. As we said, these centers performed, among other activities, a lot of charity. It was a secular charity, with some Christian inspiration, but certainly not Catholic. They also published cheap editions of books which reached the lower classes, who were also urged to learn to read and write. In addition, Spiritism was closely linked to progressive movements like cooperatives, feminism, naturism and free schools. In fact, spiritists were the first to speak of a public and free education. Similarly, the spiritists also were part of the creation of the "Autonomous Society of Women (Sociedad Autònoma de Mujeres)".
Content:
The "Autonomous Society of Women", one of the first feminist organizations in Catalonia, was founded by the fighters for the rights of working women, Teresa Claramunt and Ángeles López de Ayala and the spiritist Amalia Domingo Soler. Domingo Soler was a writer, poet and medium born in Seville who immigrated to Barcelona, where she lived in the neighborhood of Gràcia. She was a peculiar medium. For example, when she contacted the spirits she did not organize seances with other people, but she did so privately. It seems that much of what she wrote was received from the spirits who spoke to her. Beyond Spiritism, Domingo Soler was an active defender of the rights of women and directed the spiritist magazine for women "Light of the Future (Luz del Porvenir)". In the same building as the spiritist center, the "Autonomous Society of Women" organized events where feminism and spiritism were entangled, evening lessons for working women and anticlerical manifestations, such as the one in the photo, ignored by the press of the time and, as a result, ignored by history too. Amalia Domingo Soler was very critical of the Catholic Church and its way of exercising Christian values, which spiritists accepted and viewed as positive. Domingo Soler's tomb at Montjuic, where her "body wrap" resides, was and still is today a place of spiritist worship. In fact, the spiritists were, together with the anarchists, one of the most active social sectors who fought to achieve a non-Catholic space in the cemetery. Another of the outstanding journals of spiritism in Barcelona was "Macrocosm (Macrocosmos)" which dealt with naturism, natural medicine, vegetarianism, nudism... all mixed with transcripts of communications with spirits.
More information:
Mònica Balltondre; Andrea Graus (2016). "The city of spirits: Spiritism, feminism and the secularization of urban spaces". A: Oliver Hochadel; Agustí Nieto-Galan (ed.) Barcelona: An Urban History of Science and Modernity, 1888–1929. Routledge.
More about this place of interest
This place of interest on your website

<iframe src="https://plugin.routeyou.com/poiviewer/free/?language=en&amp;params.poi.id=2345476" width="100%" height="600" frameborder="0" allowfullscreen></iframe>

Try this feature for free with a RouteYou Plus trial subscription.