Author: Rutes científiques de Barcelona

| | Public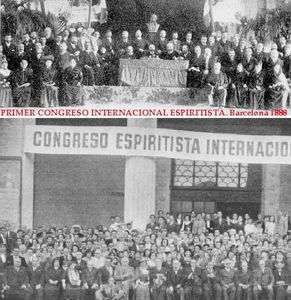 Source: Above, spiritists at the first international congress of 1888. Below, attendees of the fifth inte
Introduction:
Barcelona was, since it´s founding up until the Spanish Civil War, one of the world centers of the spiritist doctrine. Proof of this can be found in the celebration, in 1888, coinciding with the Barcelona World Fair, of the first spiritist international conference, just before the first in Paris; and the celebration, in 1934, in the same pavilions that had hosted the International Exhibition of 1929, of the fifth international congress of spiritism. Today we can still see remains of those pavilions.
Content:
In September 1888, coinciding with the first Barcelona World Fair, which took place in the Ciutadella Park, the first international congress of spiritism was held in the "Salon Slava" in Ronda Sant Pere, near the Ciutadella Park. This congress had about 2,000 attendees from around the world. Presiding over the room, was a bust of Allan Kardec, creator of the spiritist doctrine. The congress was not a session with mediums, but rather featured presentations and discussions on the spiritist doctrine. Among the audience many women could be seen, unlike most public events of the time, and there was also a large presence of the working class who could attend since the sessions began at nine in the evening. Topics treated dealt with the big issues that concerned spiritists: gender equality, the prohibition of the death penalty, the rejection of the military industry, the secularization of cemeteries, the scientific nature of the spiritist doctrine, etc. Later, during the years of Primo de Rivera dictatorship, Spiritism went underground, but with the Second Republic it came back strongly and achieved the organization of the fifth international congress of Spiritism which was held in the pavilions of the 1929 International Exhibition. Both the mayor of Barcelona, Carles Pi i Sunyer, as well as the president of the Generalitat, Lluís Companys, attended the opening ceremony. It is possible that the fact that the doctor Humbert Torres, a prominent member of Esquerra Republicana de Catalunya, Companys' political party, was a spiritist, influenced in the presence of these leaders. Spiritism, like anarchism, freemasonry, and other doctrines and thoughts, was one of the ideologies that were lost after the Spanish Civil War in 1939. Its leaders were shot and its libraries were plundered. Spiritism was classified as a doctrine against the Catholic faith and therefore was declared illegal. However, it seems just after the war there were still families who practiced spiritism in secret and resisted Franco's regime through their practice of spiritism. After 40 years of dictatorship, the first public spiritist event was held in 1977. Today, a few spiritist centers still survive in Barcelona and the surroundings, and Kardec's doctrine is still strong, especially in Latin American countries like Brazil and Cuba.
More information:
Lisa Abend (2004). "Specters of the secular: Spiritism in Nineteenth-century Spain". European History Quarterly, vol. 34, num. 4, p. 507-534.
More about this place of interest
Try this feature for free with a RouteYou Plus trial subscription.