Author: Rutes científiques de Barcelona

| | Public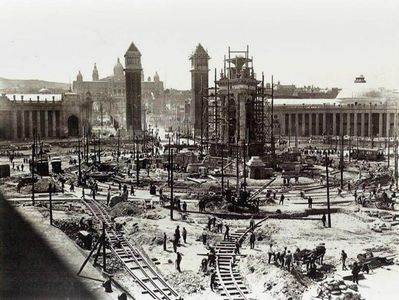 Source: The Espanya square in construction. On the right we can see the Palace of Communications and Transp
Introduction:
The Espanya square, an axis in the circulation from the Llobregat area to Barcelona, was urbanized for the International Exhibition of 1929. Together with the two Venetian Towers, the "plaça" composed the monumental entrance to the Exhibition. In the square there were also hotels that housed foreign visitors and some of the palaces of the exhibition.
Content:
Josep Maria Jujol, former collaborator of Antoni Gaudi, was the author of the great central fountain that we still see in Espanya square. This fountain, formerly much more accessible for pedestrians than it is now, is an allegory of water. It representes the great rivers of the peninsula, and the benefits that water has brought humanity: such as navigation, hygiene and agriculture. Around the square there were a number of hotels that hosted the Exhibition visitors. We can still see today two of these hotels, which are now a secondary school and the Municipal Institute of Education. Where the hotel Palace is today was the largest of these hotels, called Hotel No. 1, which had a tower clock extracted from the clock tower of Gràcia, made by the watchmaker Albert Billeter, which we adress in ourGràcia itinerary. In front of the Palace, the two great Venetian Towers served as the entrance to the exhibition and one of them housed the controls of all the light and water shows. Next to the towers are two exhibition halls with columns that close the square, a design apparently inspired by Saint Peter's square in the Vatican. Looking at Montjuïc, to the right we find the Palace of Dress dedicated to the Catalan textile industry. To the left, the Palace of Communications and Transport which was one of the largest buildings in the exhibition, and in which was displayed planes, boats, cars, trams and even train locomotives, which were taken by a temporary railway from the port to the Palace of Communications up through Paral·lel street. During the exhibition, Guglielmo Marconi, the famous Italian inventor who first patented the radio, visited Barcelona. The inventor, who at that time was already a quite old and famous man, came to Barcelona aboard the "Electra", his yacht-laboratory, in which he did experiments around the world. But not everything was so glamorous: Marconi had close links with Mussolini's fascist Italy, and he became president of the Italian Academy of Sciences, in which, for instance, he could veto Jewish scientists.
More information:
Guillem Fernàndez-Gonzàlez (2010). La urbanització de la Plaça Espanya de Barcelona entre els anys 1920 i 1926 (Projectes i Plànols). Butlletí de la Societat Catalana d'Estudis Històrics Núm. XXI (2010), p. 231-249. [in Catalan]
More about this place of interest
This place of interest on your website

<iframe src="https://plugin.routeyou.com/poiviewer/free/?language=en&amp;params.poi.id=2345734" width="100%" height="600" frameborder="0" allowfullscreen></iframe>

Try this feature for free with a RouteYou Plus trial subscription.