Author: Rutes científiques de Barcelona

| | Public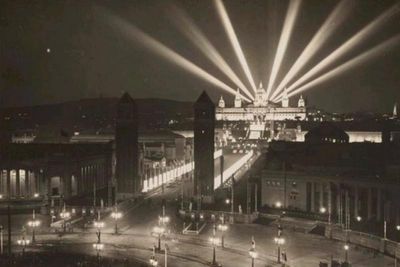 Source: The light show of the International Exhibition of 1929.
Introduction:
Although electricity was no longer the central focus of the exhibition, light, and above all, the light and water shows, were some of its most important highlights, becoming the envy of other cities. The current Maria Cristina Avenue, named America Avenue in 1929, was a great show that at sunset gathered attendees to gaze at the lights, colors and waterfalls.
Content:
Imagine a sunset at the Exhibition. Although electricity was no longer a complete novelty for the locals, the lighting layout of the buildings combined with the light and water shows and other illuminated devices that ran across the wide America avenue from Espanya square to the National Palace gave the Exhibition visitors a unique spectacle. The Exhibition lights attracted comments from people around the world, who marveling at the Barcelona scene, which seemed ahead of its time. Perhaps the most prominent of these light fixtures were the popularly called "asparagus". The "asparagus" were columns with an octagonal base, eight meters high and arranged in pairs. The end of the column was crowned by a circular body closed as a pyramid which gave the characteristic shape that resulted in this popular nickname. Often mistakenly attributed to Carles Buigas, the designers of these "asparagus" were the French Jean-Claude Nicolas Forestier and Catalan engineer Marià Rubió i Bellver, who also worked together in the design of many of the new gardens of Montjuïc. The "asparagus" survived a few years after the Exihibition, but could not withstand the shortage of raw materials during the Spanish Civil War and disappeared. Within the Exhibition there was also the "Exhibition of Light" that showed visitors electrical utilities: lit streets, kitchens with appliances, lighting offices... These features were shown to popularize, but also to sell, the benefits and applications of new technology.
More information:
David Caralt (2013). Les nits de l'Exposició Internacional de 1929. Barcelona Quaderns d'Història, num.19, L'Electrificació de Barcelona, 1881-1935. [in Catalan]
More about this place of interest
Try this feature for free with a RouteYou Plus trial subscription.