Author: Rutes científiques de Barcelona

| | Public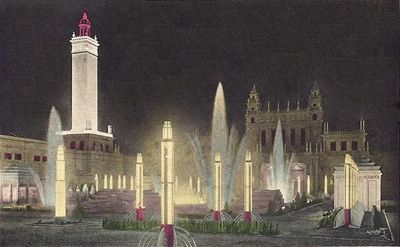 Source: In this picture of the Universe square we can see the light and water shows during the Exhibition.
Introduction:
The Universe Square today is a barren cement square without any attraction other than Josep Llimona's statue "The Work". But, at the time of the Exhibition, this place offered a spectacular view with a great tower, electric lighting and water across the square that served as access to the Palace of Textile Art.
Content:
From the middle of America Avenue, looking to our right we find the remainder of the Metallurgy, Electricity and Motive Force Palace, one of the main pavilions of the Exhibition dedicated to industry. Almost nothing remains of the original building which was renovated in the 1960s. During the Exhibition, large machinery and electrical equipment were exhibited. Afterwards, it became the "La Trilla" cinema studios , which was one of the first dubbing studios in Spain and also where movies were filmed. Opposite this Palace we can see the spectacular Universe square. As we can see in the picture, it had some spectacular light and water shows designed by Carles Buïgas, in collaboration with American engineers from Westinghouse, who were responsible for the electrical system of the International Exhibition. In the square was the Palace of Textile Art, which presented stands of textile companies around the world, including German ones designed by interiorist Lilly Reich and the architect Mies van der Rohe, who we will talk about later. The building, designed by Joan Roig and Emili Canosa, was demolished in the 60s due to structural problems. Within the setting of the square was also the 50 meter high Tower of Light with a spotlight that finished off the top. In 1984, the tower was demolished. To the right was the Screening Palace by the architects Eusebi Bona and Francisco Aznar, which was designed for film screenings and other shows. Again, it was destroyed and the Congressional Palace was built in its place. Earlier, in 1934, it was one of the venues for the Fifth International Congress of Spiritism, which we discuss in another of our itineraries.
More information:
Jordi Ferran Boleda (2002). Els Usos de l'Electricitat a l'Exposició Internacional de Barcelona de 1929. Treball de Recerca del Programa de Doctorat en Història de les Ciències, CEHIC, UAB. Setembre 2002. [in Catalan]
More about this place of interest
This place of interest on your website

<iframe src="https://plugin.routeyou.com/poiviewer/free/?language=en&amp;params.poi.id=2345740" width="100%" height="600" frameborder="0" allowfullscreen></iframe>

Try this feature for free with a RouteYou Plus trial subscription.