Author: Rutes científiques de Barcelona

| | Public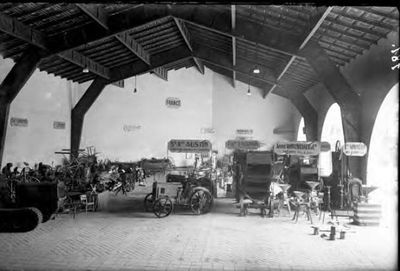 Source: Interior of the Agriculture Pavilion.
Introduction:
Turning left at the end of the America avenue into the current Franecsc Ferrer i Guàrdia avenue, which is transformed at this point into Rius i Taulet avenue, we will find to our right the so-called House of the Press of the International Exhibition, by Pere Domènech i Roura. From there we can continue up to the Santa Madrona avenue where we find three more exhibition pavilions: the Agriculture pavillion, currently the Lliure Theater; the Graphic Arts Pavillion, currently the Archaeology Museum of Catalonia; and the Caja de Ahorros and Pensiones de Barcelona Pavillion, currently the headquarters of the Cartographic Institute of Catalonia.
Content:
The House of the Press is perhaps the only spark of Modernism that loomed in the construction of the 1929 Exhibition, which was otherwise dominated by Noucentisme. It was the work of Pere Domènech i Roura, son of Lluís Domènech i Muntaner and head of the section of works of the Exhibition, who perhaps wanted to pay a final tribute to his father's style mixing brick with ceramic and Neo-Mudéjar with the Gothic Revival. During the Exhibition, this building hosted journalists from around the world. They had meeting rooms, photo labs, a kitchen, recreation rooms... Later, the building was, for many years, the city police headquarters and currently serves as a warehouse. Continuing upwards we find the Agriculture Pavilion, one of the largest pavilions of the exhibition, designed by the architects Josep Maria Ribas and Manel Maria Mayol i Ferrer and clearly following a Renaissance style. In the lobby of the current Lliure Theater we can still see the allegorical engravings to Agriculture. From there we can also go to what remains of the large central courtyard that was also part of the Pavilion, now called Margarita Xirgú square. In front of the Agriculture Palace was the Graphic Arts Pavillion, currently the Catalan Museum of Archaeology. From here we can also see the Pavilion of the Caja de Ahorros and Pensiones de Barcelona, also designed by Ribas and Mayol. During the Spanish Civil War this Pavillion served as a provisional hospital which held the Barcelona Blood Bank. Since 1982, it has become the Cartographic Institute of Catalonia. On the other side we can find the "Teatre Grec", a theater for 2,000 people, also built for the 1929 Exhibition at one of the many quarries that dotted Montjuïc at that time. From there we can go to the Laribal Gardens, designed by Forestier and Marià Rubió, where we can find the famous Fountain of the Cat.
More information:
Antoni Ramon Graells (2008-2011). De Palau de l'Agricultura a Centre de les Arts del Moviment. 1929-2009. Arxiu d'Arquitectura teatral. Recull de publicacions 2008-2011. [in Catalan]
More about this place of interest
Try this feature for free with a RouteYou Plus trial subscription.