Author: Rutes científiques de Barcelona

| | Public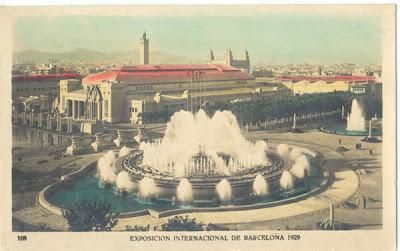 Source: Magic Fountain and Projections Palace in the background.
Introduction:
Looking back to Espanya square from the National Palace, we have, both to our right and to our left, the Alfonso XIII and Victoria Eugenia Pavillions. Further on we can see four large columns recently reconstructed and we can watch the spectacle of the Magic Fountain, which, almost 100 years after its construction, and in a world of virtual realities, still delights locals and visitors.
Content:
The Pavillions of Alfonso XIII and Victoria Eugenia, left and right of the Puig i Cadafalch square, were part of the initial project of this architect. They were located on two levels with the upper level more advanced than the lower, so that one's view from America avenue is directed, thanks to the tunnel effect, to the National Palace. These pavilions were designed with few pretensions as large spaces to host exhibitions, which they have done ever since their construction. At the head of Puig i Cadafalch square we find 4 columns designed by this architect. They represent the four bars of the Catalan flag and emphasize the classical heritage of the Catalan people. The columns were built in the space now occupied by the Magic Fountain in 1919. They were destroyed in 1928, when the Exhibition was finally announced. The columns were remade in 2010 slightly above their original location. In fact, the empty space left in 1928 by the columns was quickly occupied by a Magic Fountain designed by Carles Buigas with the help of technicians from Westinghouse, the US company in charge of the electrical installation of the Exhibition. The Fountain worked with a 1,100 hp engine and moved at a rate of 2600 liters per second. This arrangement of up to 30 sets of water of different colors surely helped everyone to forget aboutthe destruction of the columns. The choice of a Magic Fountain was perhaps influenced by the great success of a similar fountain during the Universal Exhibition of 1888. After deteriorating considerably during the Franco dictatorship, the Magic Fountain was restored before the 1992 Olympic Games, at which time music was added.
More information:
Llibre-Catàleg Commemoratiu de l'Ajuntament de Barcelona: L'Enginy de Carles Buigas (1898-1979). [in Catalan]
More about this place of interest
This place of interest on your website

<iframe src="https://plugin.routeyou.com/poiviewer/free/?language=en&amp;params.poi.id=2345753" width="100%" height="600" frameborder="0" allowfullscreen></iframe>

Try this feature for free with a RouteYou Plus trial subscription.