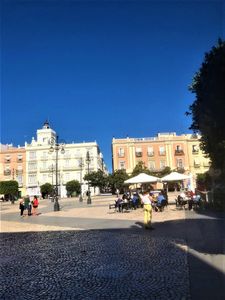 Source: Willem Vandenameele
Plaça de Sant Antoni is a large square and one of the nerve centers of the city.
It was originally called Campo de Jara due to its proximity to the spring of the same name, which supplied the city with drinking water for many years. In the middle of the 17th century it got its current name and the chapel dedicated to Sant Antoni was built there.
In the 18th century it became the center of urban expansion and incorporated the current Sant Joan de Déu square as a result of commercial occupation, civil and religious events. Historically, this square is known as the place where the 1812 Constitution was promulgated and as the bloody scene of the suppression of the Liberal movement in 1820.
The proportions of the surrounding buildings are very uniform, broken only by the slender facade of the Church of Sant'Antoni. The Casino Gaditano headquarters, built in the 18th century by the Marquis of Pedroso, is a baroque building renovated in 1857 in the Elizabethan style. The courtyard and interiors are richly decorated in the Neomudéjar style created in 1890 by the Sevillian artist Adolfo López Rodríguez.
Another building of great importance is the headquarters of the old Banca Aramburu , with an eighteenth-century facade in white marble with columns on the second part, while the facade was renovated in 1910 in the modernist style by Juan Cabrera. The tower.
In this square, the Casa Museu of the Gadí writer José María Pemán stands out for its historical importance, which today houses exhibitions and temporary exhibitions.
More about this place of interest
This place of interest on your website

<iframe src="https://plugin.routeyou.com/poiviewer/free/?language=en&amp;params.poi.id=8425827" width="100%" height="600" frameborder="0" allowfullscreen></iframe>

Try this feature for free with a RouteYou Plus trial subscription.