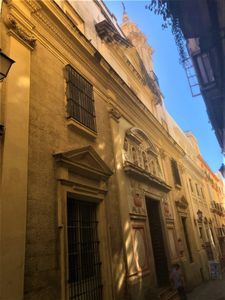 Source: Willem Vandenameele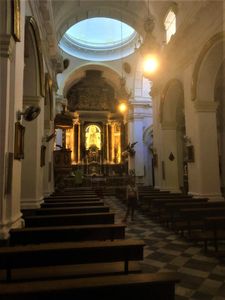 Source: Willem Vandenameele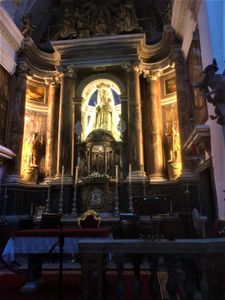 Source: WillemVandenameele
This church has its origins in a chapel built in the 16th century as the seat of the Augustinian nuns.
Since the first half of the 17th century , the church has housed the Confraternity of Our Lady of the Black Rosary , from which it takes its current name. The original building has been modified several times over time and the current physiognomy is academic and dates from the end of the 18th century, the work of Torcuato Benjumeda.
It has a three-naved Latin cross plan with the main nave divided into four bays separated by Doric columns. The main facade, characterized by four Ionic pilasters , divides it into three bays, the center of which is an attic. The marble facade is a Baroque work of Genoese origin from the beginning of the 18th century and is crowned by a triangular tympanum depicting Our Lady of the Rosary, Saint Peter and Saint Paul.
The main altarpiece contains a niche of Our Lady of the Rosary , built in the late 18th century; On either side are those of Sant Servando and Sant Germà, attributed to Francisco de Villegas. On the side walls are two paintings by Juan de Herrera depicting the Trinity and the handing over of the chasuble to Saint Ildefonso.
The altarpiece on the left is an 18th-century representation of Saint Joseph. The first altarpiece is the Crucificado de las Misericordies, from the 18th-century Genoese school, and on either side are San Francisco de Borja and San Luis Gonzaga. Below is the important statue of Our Lady of the Angels, attributed to Benito de Hita del Castillo and polychromed by Francisco Maria Mortola.
More about this place of interest
This place of interest on your website

<iframe src="https://plugin.routeyou.com/poiviewer/free/?language=en&amp;params.poi.id=8425833" width="100%" height="600" frameborder="0" allowfullscreen></iframe>

Try this feature for free with a RouteYou Plus trial subscription.