Περιφερειακή Ενότητα Μεσσηνίας
Author: Dromos |
| | Public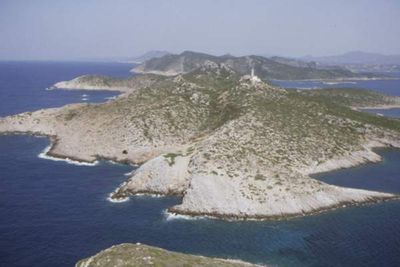 Sapientza is an island south of Methoni with rocky areas and ending in forests and ravines rich in strawberry trees (Arbutus Unedo). It contains a lost monastery and Manetta''s cave. An part of the area covering 240 acres has been announced "Natural Preserve Monument" by the state. The populations is estimated to be about 700 animals, (400 sheep and 300 chamoes). With the Sapientza Treaty in 1209 the island passed in the hands of the Venetians. It has been used as a docking area for the Turks and the Venetians during the third Venetian-Turkish war, and as a base of operations for the Greek fleet in 1825. The ships that usually sailed near the coast of the island frequently crashed on its rocky coast resulting in the discovery of many important shiprwrecks from all the historical periods. One of these sank at the north part of Sapientza with its stolen cargo which was the pillars from the Grand Peristyle built by Herod in Caissareia, Palestine, in the 1st century A.D. Sapientza is a low island with an area of 9 square kilometres, its highest peak being on its north part, Foveri, at a height of 219 m. The slopes of the island climb up in lush greenery, and the crlystal clear waters of the sea, have a unique exotic colour. The island Sapientz and its neighbouring islands Schiza, Santa Marina belong to the Oinoussai complex.
More about this place of interest

<iframe src="https://plugin.routeyou.com/poiviewer/free/?language=en&amp;params.poi.id=575661" width="100%" height="600" frameborder="0" allowfullscreen></iframe>

Try this feature for free with a RouteYou Plus trial subscription.