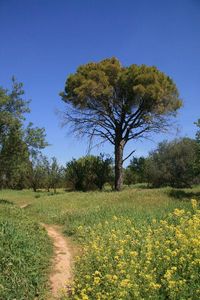 If you like wine, this tree might interest you: the Aleppo Pine or Pinus halepensis. You can find a few big examples in the Syngrou park.
They used sap of this tree to put on the inside of amphoras because amphoras were porous. That's where the origin and taste of the Greek retsina comes from.
Because the Greeks got so used to the taste of the sap, they are now adding it to wine but the sap lost its original function.
More about this place of interest

<iframe src="https://plugin.routeyou.com/poiviewer/free/?language=en&amp;params.poi.id=669825" width="100%" height="600" frameborder="0" allowfullscreen></iframe>

Try this feature for free with a RouteYou Plus trial subscription.