Author: Dromos
| | Public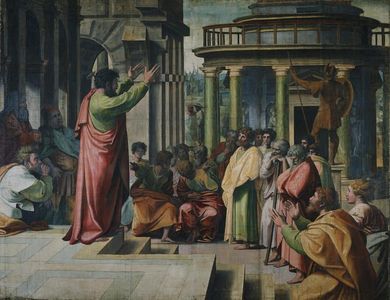 The apostle Paul once delivered a sermon from the Areopagus Hill, a natural stage to talk to an audience. It is known as the Areopagus sermon. The background to the sermon is that Paul was distressed to see Athens full of idols, and went to the synagogue and the marketplace to preach against idolatry. Some Greeks took him to a meeting at the Areopagus, the high court in Athens, to explain himself. The Areopagus literally meant the rock of Ares in the city and was a center of temples, cultural facilities, and a high court. It was illegal to preach a foreign deity in Athens, so Paul's sermon was in fact a combination of a "guest lecture" and a trial.
Address
Athens, Greece
More about this place of interest

<iframe src="https://plugin.routeyou.com/poiviewer/free/?language=en&amp;params.poi.id=744238" width="100%" height="600" frameborder="0" allowfullscreen></iframe>

Try this feature for free with a RouteYou Plus trial subscription.