Author: Dromos
| | Public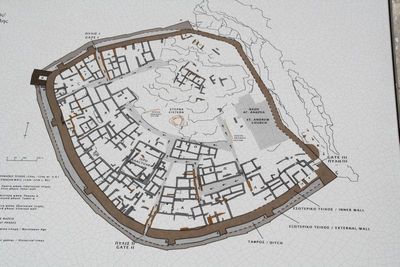 Source: Archeological Site of Aghios Andreas
If you get up here on the Acropolis of Aghios Andreas, you wonder why these early inhabitants of Sifnos did all the effort to build something like this so far away from a harbour, agriculture and water. All you needed to live had to be brought up here. Obviously, the big asset was protection. There is no source of water here, except the water they could collect falling from the sky in a cistern. Conduits were constructed outside the acropolis to channel excess rainwater outside the citadel. That makes you think about how unsafe these seas around Sifnos must have been to make such a big compromise on effort and comfort. The foundation of the powerfully fortified acropolis of Aghios Andreas is dated to the Mycenaean Age, in the 13th century BC. The impressive walls reveal a particularly flourishing society. Prehistoric habitation continued until at least the 12th century BC. It was again occupied in the 8th century BC (Geometric period), with a peak in the 7th-6th centuries BC). There is evidence of limited habitation during the 5th-2nd centuries BC (Classical and Hellenestic periods).
Address
Sifnos, Greece
More about this place of interest

<iframe src="https://plugin.routeyou.com/poiviewer/free/?language=en&amp;params.poi.id=1262662" width="100%" height="600" frameborder="0" allowfullscreen></iframe>

Try this feature for free with a RouteYou Plus trial subscription.