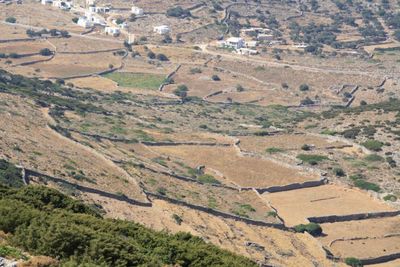 The road from Apollonia to Troulaki leads through a remarkable valley cut out in marble rock, called the valley of Choni. This broad valley is locked in by two marble blocks of about 450m high. The block in the south is Aghios Simeon, with its famous cloister, offering a great view over the valley of Kamares. In the north, it is the marble block of Antri and Selladi. What's peculiar about this valley is that you get such a wide valley at this height, with such a broad size and with such thick soils. 4km further, the valley cuts through the marble and greenschist, turning to the south, following its way to the west in the bay of Kamares. At the place where the river cuts in, it drops 100m over 1km. The part higher upstream is only dropping 100m over 3.5 km. And the last part only drops 100m over 2.5 km. This type of change in slope of a river is typically related to a geological threshold. In this case, a threshold of marble. And the uplift of these threshold must also be geologically recent, otherwise the river would have had the time to cut its way through over the whole traject.
Address
Sifnos, Greece
More about this place of interest

<iframe src="https://plugin.routeyou.com/poiviewer/free/?language=en&amp;params.poi.id=753185" width="100%" height="600" frameborder="0" allowfullscreen></iframe>

Try this feature for free with a RouteYou Plus trial subscription.