Author: Dromos
| | Public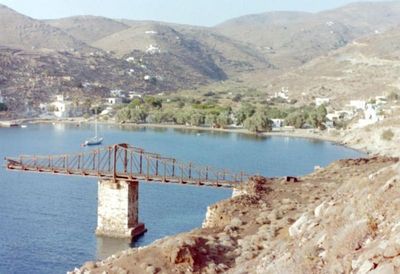 Serifos has many old mines. In 1916, there was a major "Miners' Strike". At that time, the mines of Serifos were exploited by the mining company "Societe des mines Seriphos-Spiliazeza," under the direction of German mineralogist A. Grohmann. In the summer of 1916, in response to low pay, excessive working hours, poor safety conditions, and the company's refusal to rehire workers who had been drafted into the Greek army and recently demobilized, the 460 miners formed a union and organized a strike. In response to the strike, Grohman asked for the help of Greek authorities, who sent a 30-man gendarmerie. The gendarmerie lieutenant ordered his men to fire on the workers, who had gathered at the ore loading dock at Megalo Livadi and refused to permit a cargo ship to be loaded. Four workers were killed and a dozen wounded. The workers, supported by their wives, attacked the gendarmes with stones, killing three of them and routing the others.
Address
Serifos, Greece
More about this place of interest
This place of interest on your website

<iframe src="https://plugin.routeyou.com/poiviewer/free/?language=en&amp;params.poi.id=973475" width="100%" height="600" frameborder="0" allowfullscreen></iframe>

Try this feature for free with a RouteYou Plus trial subscription.