Author: Dromos
| | Public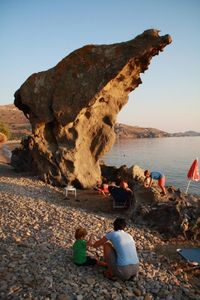 A great example of a tafone developed in volcanic rock. Tafoni are small cave-like features found in granular rock with rounded entrances and smooth concave walls, often connected, adjacent, and/or networked. They often occur in groups that can riddle a hillside, cliff, or other rock formation. They can be found in all climate types, but are most abundant in intertidal areas and semi-arid and arid deserts. One of the favored explanations controlling their formation include salt weathering. The etymology of the word "tafoni" is unclear. Tafoni may come from the Greek word taphos, "tomb", or it may stem from a Corsican or Sicilian word for "holes", taffoni, or from tafonare meaning "to perforate".
Address
Limnos, Greece
More about this place of interest
This place of interest on your website

<iframe src="https://plugin.routeyou.com/poiviewer/free/?language=en&amp;params.poi.id=1813386" width="100%" height="600" frameborder="0" allowfullscreen></iframe>

Try this feature for free with a RouteYou Plus trial subscription.