Περιφερειακή Ενότητα Λήμνου
Author: Dromos |
| | Public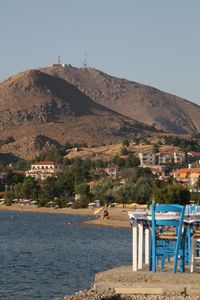 View on the mountain Aghios Athanasios. This mountain is an example of a stocks. A stock is a smaller version of a batholith, having exposed surfaces of less than 100 sq.km. A batholith (from Greek bathos, depth + lithos, rock) is a large emplacement of igneous intrusive (also called plutonic) rock that forms from cooled magma deep in the Earth's crust. Stocks are composite bodies that have probably been fed by deeper level batholiths and may have been feeders for volcanic eruptions. However, because considerable erosion is necessary to expose a stock or batholith, the associated volcanic rocks rarely remain.
Address
Limnos, Greece
More about this place of interest

<iframe src="https://plugin.routeyou.com/poiviewer/free/?language=en&amp;params.poi.id=2507975" width="100%" height="600" frameborder="0" allowfullscreen></iframe>

Try this feature for free with a RouteYou Plus trial subscription.