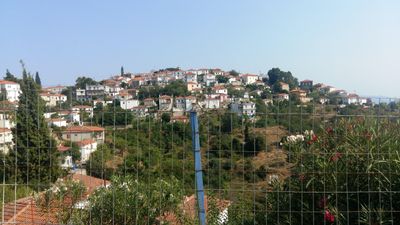 Trikeri is a very remote place on the Peninsula of Pelion in many meanings of that concept. The village is located at the far end of the peninsula with no way to go. There are no important ferries connecting this place to other main places around the Pagasetic Gulf. It is located about 20 kms away from the nearest village of considerable size (Milinia). And in between are a vast set of limestone hills, covered by a dense and inaccessible maquis vegetation. The limestone rocks on which the village is built are not very fruitful either. Just on the west side of the village you will find some olive groves. So it is at first sight a bit of a geographic mistery to find a place of such size on this spot. Until recently, in the 1970s, there was no access from land and road communication was only from the sea. The village of Trikeri has about 1200 inhabitants. The former inhabitants of Trikeri were mainly fishermen and sponge divers. It has a great nautical history. In the 18th century Trikeri had one of the largest commercial fleets. During the Greek revolution of 1821, it played an important role with its boats and its brave seamen.The view towards the sea is perfect. And the elevated location protected them against surprise pirate attacks.
Address
Trikeri, Pelion, Greece
More about this place of interest

<iframe src="https://plugin.routeyou.com/poiviewer/free/?language=en&amp;params.poi.id=2622329" width="100%" height="600" frameborder="0" allowfullscreen></iframe>

Try this feature for free with a RouteYou Plus trial subscription.