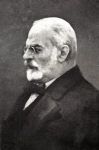 Some famous notable people were born in the village of Apeiranthos: Petros Protopapadakis (1854–1922), Prime Minister of Greece, whose grandson lives now in Luxembourg. You can find a status of Petros Protopapadakis at the main chora of Naxos. Also Manolis Glezos (1922), politician and writer, was born here. Manolis Glezos is a Greek left-wing politician and writer, best known for his participation in the World War II resistance. Michalis Vardanis (1936–2014) was an Army officer, a lawyer and a major figure in the resistance against the Regime of the Colonels.
Address
Apeiranthos, Naxos, Greece
More about this place of interest
Try this feature for free with a RouteYou Plus trial subscription.