Περιφερειακή Ενότητα Νάξου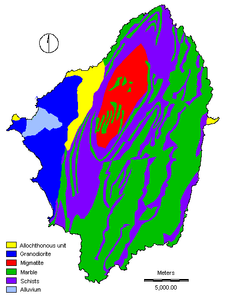 Kinidaros is located in the lithological unit of migmatites (red part on the map). The migmatitie is the core the Naxos dome.
Migmatite has this tyical snake-like structures. Migmatite is a rock that is a mixture of metamorphic rock and igneous rock. It is created when a metamorphic rock such as gneiss partially melts, and then that melt recrystallizes into an igneous rock, creating a mixture of the unmelted metamorphic part with the recrystallized igneous part. Migmatites form under extreme temperature conditions where partial melting occurs in pre-existing rocks. Commonly, migmatites occur within extremely deformed rocks that represent the base of eroded mountain chains. The light-colored material has the appearance of having been mobilized or molten.
More about this place of interest

<iframe src="https://plugin.routeyou.com/poiviewer/free/?language=en&amp;params.poi.id=3144606" width="100%" height="600" frameborder="0" allowfullscreen></iframe>

Try this feature for free with a RouteYou Plus trial subscription.