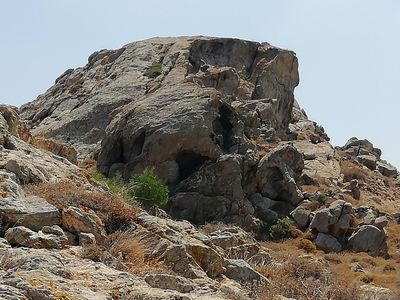 A tor, which is also known by geomorphologists as either a castle koppie or kopje, is a large, free-standing rock outcrop that rises abruptly from the surrounding smooth and gentle slopes of a rounded hill summit or ridge crest. Tors are landforms created by the erosion and weathering of rock; most commonly intrusive rocks such as this granodiorite. Granodiorite is an intrusive igneous rock similar to granite, but containing more plagioclase feldspar than orthoclase feldspar. According to the QAPF diagram, granodiorite has a greater than 20% quartz by volume, and between 65% to 90% of the feldspar is plagioclase. It looks more white in comparison with the pinkish granite.
This version here has also small caves called tafoni. The etymology of the word "tafoni" is unclear. Tafoni may come from the Greek word taphos, "tomb", or it may stem from a Corsican or Sicilian word for "holes", taffoni, or from tafonare meaning "to perforate".
Address
Pirniou, Naxos, Greece
More about this place of interest
This place of interest on your website

<iframe src="https://plugin.routeyou.com/poiviewer/free/?language=en&amp;params.poi.id=3224109" width="100%" height="600" frameborder="0" allowfullscreen></iframe>

Try this feature for free with a RouteYou Plus trial subscription.