Περιφερειακή Ενότητα Νάξου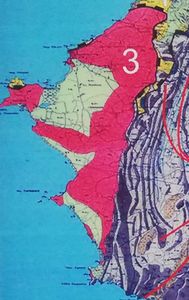 Source: Geological Map of Naxos by J.B.H. Jansen
The road from Vivlios to Kastraki/Aliki in the south, known as Kevtrikos Dromos Xoras, follows almost perfectly the line of contact of two geologic units (red & purple on the map. About 12 MA ago, magma bubbled up from deep under the island. You can see this unit to the west of the road (right if you drive south). It didn't erupt but cooled off under the ground, and appears now as granodiorite. You will recognize the nice rounded bolders, sticking out above the surface, also known as 'tors' or 'castle koppies'. While bubbling up about 12 MA, this hot magma came into contact with the surrounding rocks, changing it in structure and creating new minerals. That's what geologists call contact metamorphism. Check out the side of the road to spot a huge variety of this mix of minerals.
Address
Kevtrikos Dromos Xoras, Naxos, Greece
More about this place of interest

<iframe src="https://plugin.routeyou.com/poiviewer/free/?language=en&amp;params.poi.id=3224516" width="100%" height="600" frameborder="0" allowfullscreen></iframe>

Try this feature for free with a RouteYou Plus trial subscription.