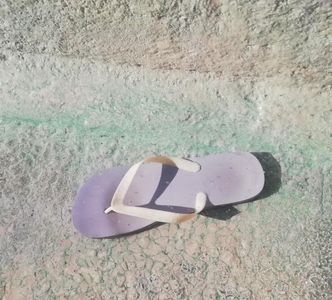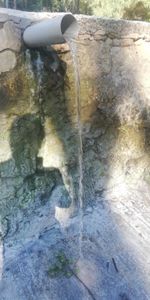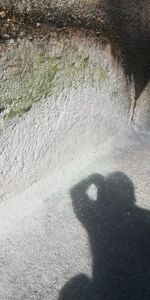 Near the ancient Roman ruins there is a washing place where the spring water flows from a tube. The water, rich in calcium and sulfur, was deposited here as a layer of white (gypsum and calcite) and light green minerals (?).
You will notice a fairly strong odor in this area and in the water. That odor is caused by the toxic and smelly hydrogen sulfide (H2S). It is the smell of rotting eggs and of a sewer. When calcium sulfide decomposes in water or reacts with acids, this stinking gas is produced. If you wash with this water you will certainly be able to smell that pungent odor on your skin for a few hours.
The question is where the sulfur can come from. This could be of volcanic origin, but there is no volcanic activity in this area. This volcanic activity is located east of the Peloponnese (just think of Milos and Santorini). So that's pretty unlikely. H2S or hydrogen sulphide can also occur during the decay of many sulfur-containing organic substances. And they can occur in layers of shallow sea and swamp deposits.
Pay attention! Due to its toxicity, inhaling even low concentrations of hydrogen sulfide over a long period of time is dangerous.
Calcium sulfide is the sulfide of calcium that is in the water. The substance occurs as white hygroscopic crystals, which are poorly soluble in water. If you get some water in your mouth you will experience it as irritating and acidic. So it's better to keep your mouth shut if you rinse here, let alone drink the water.
More about this place of interest
This place of interest on your website

<iframe src="https://plugin.routeyou.com/poiviewer/free/?language=en&amp;params.poi.id=7227087" width="100%" height="600" frameborder="0" allowfullscreen></iframe>

Try this feature for free with a RouteYou Plus trial subscription.