Author: Pascal @ RouteYou
| | Public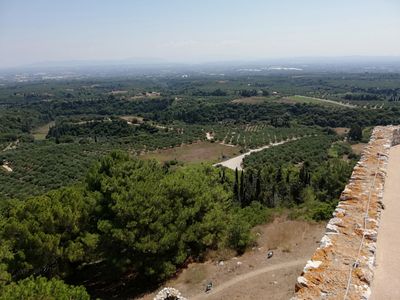 Cape Chelonatas is constructed of Pliocene marl deposits. 
In Pliocene times, this cape was part of the graben of the Plains of Elis and sank faster than they could be filled up with debris from the mountains in the center of the Peloponnesus. This area was under water, and a lot of marine and brackish water sediments were deposited here. 
It was only after the Pliocene that the sea floor of these planes were lifted up for more than 400 m, became dry land and started to erode severely. You can still see the remnants of these shallow sea deposits as yellow steep valley sides in this area. These hills are covered with olive groves now.
To the east of this area, the eroded land became sea again, and this cape became a small island in between Zakynthos and the main land. It is horst. Around this hill the rivers Alpheios and Peneios filled up the depression with alluvium and the current Plains of Élis were created, probably including tectonic uplift. 
More about this place of interest
This place of interest on your website

<iframe src="https://plugin.routeyou.com/poiviewer/free/?language=en&amp;params.poi.id=7226769" width="100%" height="600" frameborder="0" allowfullscreen></iframe>

Try this feature for free with a RouteYou Plus trial subscription.