Author: Pascal @ RouteYou
| | Public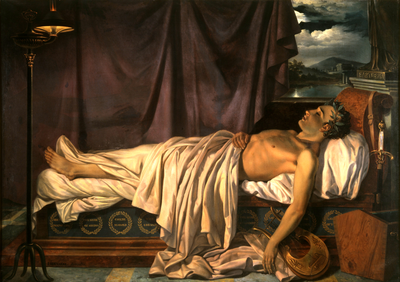 Source: Joseph Denis Odevaere
A famous painting related to Missolonghi is "The Reception of Lord Byron at Missolonghi" painted by the artist Theodoros Vryzakis. On 5 January 1824 Byron crossed to Missolonghi, the town he had visited years before. Lord Byron was, besides poet and politician, a great philhellene. He came to Greece fighting against the Ottomans during the Greek War of Independence. The philhellenic organisations in Europe pushing the idea of Greek independence had a lot of support from intellectual circles. Besides Lord Byron, there was also Delacroix, Goethe, Shelley, Pushkin, Jeremy Bentham. The priest behind the bishop keeps a picture of the resurrection of Christ was a symbol of the resurrection of Greece, and in the distance a ruined minaret seems to be showing the expulsion of the Turks. You can see the painting now in the National Gallery in Athens.
Lord Byro eventually lost his life here in Missolonghi on April 19, 1824. Not in battle. In early April he caught a violent cold, which therapeutic bleeding, insisted on by his doctors, aggravated. This treatment, carried out with unsterilised medical instruments, may have caused him to develop sepsis. He contracted a violent fever and died in Missolonghi on 19 April (see painting of Joseph Denis Odevaere, now at Groeningemuseum, Bruges).
More about this place of interest
This place of interest on your website

<iframe src="https://plugin.routeyou.com/poiviewer/free/?language=en&amp;params.poi.id=8190036" width="100%" height="600" frameborder="0" allowfullscreen></iframe>

Try this feature for free with a RouteYou Plus trial subscription.