Author: Pascal Brackman
| | Public | Dutch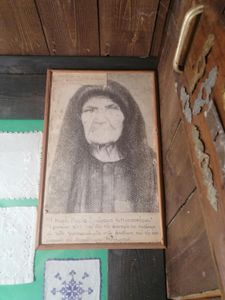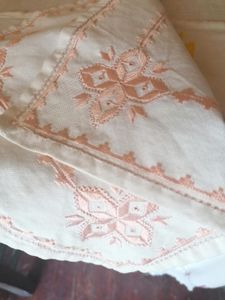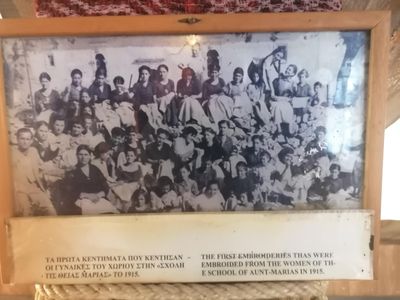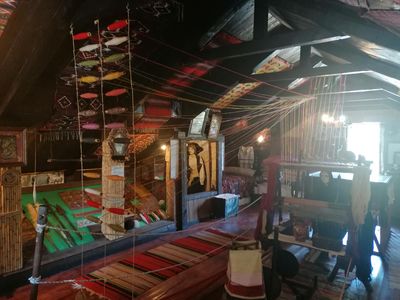 Karya is a mountainous big village of Lefkas and it s story is bound up with "Karsaniki" stitch, a singular kind of embroidery, very differend's from the traditional island's needlecraft.
Women at Karya, up to the present day, have been using this stitch in embroideries with original designs and vivid colours.
Yet, behind the complicated stitch is concealing a story proving the strength of human courage. This story concerns a woman who lost her right hand at childhood. Maria Stavraka was the woman who towards the close of the 19th century 'discovered" the "Karsaniki" stitch and perfectionized it with the left hand only.
However, the peculiarity linked to the karsaniki stitch does not end here. A man called barba Argiris Stavrakas who had lost his two legs during the war of 1912, was the supporter of "Koutsohero" (the nickname means woman with one arm). He was also embroidering and teaching the village women. For a year now, Theodoros Katopodis, inhabitant of Karya, has been trying to establish a museum to lodge not only the "karsaniki" stitch but also the handwoven and knitted village women's handicrafts of all kinds. It's a labor of love to keep the legend of "Koulsohero" alive.
Maria "Koutsohero" was born at Karya between 1860 and 1865. When she was ten years old she fell of a tree and seriously injured her right hand. Doctors at the time had not the means to save it and they found themselves obliged to amputate it. In a similar accident she broke her left hand too. Everything was leading to a miserable life of an invalid. As she was telling later, when she was nine teen years old, as she was grazing her goat, the sky opened and a blazing tree fell in front of her. She heard among the flames a voice ordering her to go to the village and teach the village girls how to embroider as in the old times. Since then Maria had been devoted to her "divine" mission. She learned how to embroider with one hand, "discovered" the karsaniki stitch and was drawing flowers, trees, thorns, leaves and birds in linen fabrics. The village did not accept her as a teacher at first and she felt often humiliated. Yet once her fellow-villagers were acquainted with her work permitted their daughters to go to the place.
Maria was enthusiastic over her work (embroidery) and with Queen Sophia she established at Karya a school of handicraft named "Proodos" (progress). "Koursohero" died in 1948. She would embroider till her last hour. A few years later the "Royal Welfare" was established al the village. Now is called "National Welfare Organisation" and used to supply village women with threads and fabrics. They obtained in this way a good income. However, during the last years the tradesmen took the place of the Welfare. Women found themselves forced to buy the material and the tradesmen were taking the embroideries which they were selling at very high prizes. Nowadays this trade is very restricted and village women are embroidering only the dowry of their daughters and sons.
Barba Argiris Stavrakas was Maria's collaborator. His serious disability (he got injured during the war in 1912 and they emputated both his legs) pushed him to embroidery which was not a man's habit. Barba Argiris was born in 1897 and alter the war of 12 returned to his village. He had to support his family. He learned from the karsaniki stitch. In fact il was she who insisted- and flung himself into the task. His embroideries are real fine works of art. At the same time he was teaching with Maria the village women and died full of years in 1963.
At the same village lives today another old man who does not embroider but weaves. He is called barbs Nicolas and in his loom the traditional handwoven textile of Lefkas took new form. He vented new combination of colours and designs and made handwoven bags and carpets which were snapped up
This is the story of Karsaniki atton, the story of Karya, as tory who originates from the legend but became true. 
More about this place of interest

<iframe src="https://plugin.routeyou.com/poiviewer/free/?language=en&amp;params.poi.id=8287552" width="100%" height="600" frameborder="0" allowfullscreen></iframe>

Try this feature for free with a RouteYou Plus trial subscription.