Author: Pascal @ RouteYou
| | Public | Dutch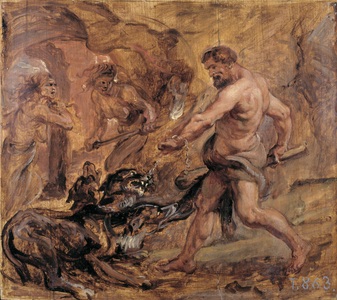 This legendary cave was believed to be the entrance to Hades from which Heracles snatched Kerveros or Cerberus (painted by many artists, such as Pieter Paul Rubens - see image). Cerberus, often referred to as the hound of Hades, is a multi-headed dog that guards the gates of the Underworld to prevent the dead from leaving. He was usually described as having three heads, a serpent for a tail, and snakes protruding from multiple parts of his body. Cerberus is primarily known for his capture by Heracles, one of Heracles' twelve labours.
Because mythology and modern religion is frequnelty entangled, a smal chapel, the chapel of Aghios Nikolaos, and the church of Aghios Anargyri were bult at each end of the gorge to contain all the ancient spirits within.
More about this place of interest
This place of interest on your website

<iframe src="https://plugin.routeyou.com/poiviewer/free/?language=en&amp;params.poi.id=8188561" width="100%" height="600" frameborder="0" allowfullscreen></iframe>

Try this feature for free with a RouteYou Plus trial subscription.