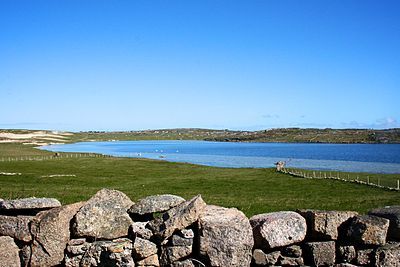 Source: Markbriggs
Copyright: Creative Commons 3.0
Omey Island is a tidal island situated near Claddaghduff on the western edge of Connemara in County Galway, Ireland. From the mainland the island is inconspicuous and almost hidden. It is possible to drive or walk across a large sandy strand to the island by following the arrowed signs. At high tide, the water is deep enough to cover a car.

In the early-to-mid-1990s a team of archaeologists from University College Dublin began work to study the monastic heritage of the island, long known for being the site of a monastery and settlement reportedly founded by the prodigious St Feichin. In fact, its name derives from the Irish Iomaidh Feichín meaning Feichín's bed or seat.

Source: Wikipedia.org
Copyright: Creative Commons 3.0
Address
Galway
More about this place of interest
Try this feature for free with a MyRouteYou Plus trial subscription.