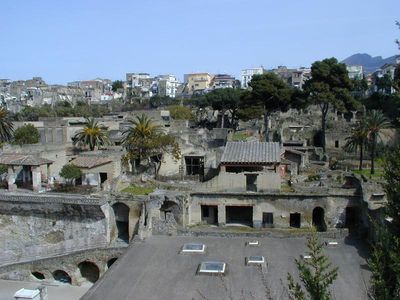 Pompeii and Herculaneum have met with exactly the same historical fate: they have been destroyed at the same time by same event, the eruption of the Vesuvius volcano. The two towns are also close to each other. But Pompeii is a much more popular place. Pompei gets nine (!) time more visitors than Herculaneum. Is its so much mire interesting? No is the answer. In fact, if anything, one might even argue that Herculaneum is a better place. It is a smaller place, and therefore easier to grasp, some details are better preserved and, also, it's much closer to the city of Naples.
Source: Francesco Antinucci
Address
Corso Resina 230, 80056 Ercolano, Napoli, Italy
More about this place of interest
This place of interest on your website

<iframe src="https://plugin.routeyou.com/poiviewer/free/?language=en&amp;params.poi.id=1420042" width="100%" height="600" frameborder="0" allowfullscreen></iframe>

Try this feature for free with a RouteYou Plus trial subscription.