Sienna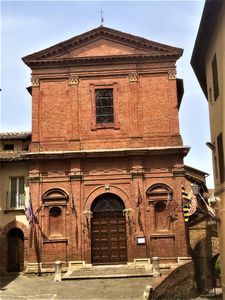 Source: Willem Vandenameele
The Church of San Giovannino della Staffa or San Giovannino in Pantaneto is located on the Piazzetta Virgilio Grassi. It is the oratory of the contrada del Leocorno.
The church was built in the first half of the 16th century on top of an older Romanesque building, dedicated to Saint John the Baptist, which dates back to the 13th century.
The construction of the church lasted throughout the second half of the 16th century, and the furnishing of the church was begun towards the end of the century, starting with the choir stalls made in the last decade of the century. Between 1599 and 1649, the Compagnia had the vaults frescoed, built the altar and decorated the four walls of the church with no less than fifteen canvases depicting the life of John the Baptist, painted by the most famous Sienese artists of the time.
The church has a simple yet elegant terracotta façade, built by Giovan Battista Pelori in 1537.
The vault was painted by Dionisio Montorselli with the Glory of John the Baptist, while on the walls is a cycle of fifteen canvases, ordered between 1599 and 1649 by the brothers of the company, with Stories from the life of John the Baptist . This is an important gallery of Sienese painting of the period, in which Dionisio Montorselli, Rutilio Manetti, Domenico Manetti, Giovan Battista Giustammiani, known as Francesino, Bernardino Mei, Raffaello Vanni, Deifebo Burbarini and Astolfo Petrazzi took part. Among the paintings are four by Rutilio Manetti, including that on the main altar depicting the Baptism of Jesus.
The altar was made in 1609 by Flaminio del Turco. Of particular note is La Madonna della Pace, a small late 14th-century panel by Francesco di Vannuccio that was the object of particular devotion during World War II.
In the porch of the church is a polychrome terracotta statue of St. John the Baptist by Guidoccio Cozzarelli and there is also a painting by Deifebo Burbarini depicting St. Joseph's Passage.
Source: Willem Vandenameele
More about this place of interest

<iframe src="https://plugin.routeyou.com/poiviewer/free/?language=en&amp;params.poi.id=8280621" width="100%" height="600" frameborder="0" allowfullscreen></iframe>

Try this feature for free with a RouteYou Plus trial subscription.