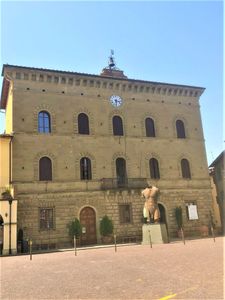 Source: Willem Vandenameele
The imposing neo-Renaissance style town hall overlooks the old market square, on the side opposite the church of Santa Croce. The current palazzo stands on the remains of the old Palazzo Pretorio, which began construction in 1485 and was completed in 1489. No relevant information is known about this ancient building, except that it presumably served as the seat of the League of the Val di Greve, which depended on the Podesteria of the same name. The new city palace was built above this building, which started in 1894 and was completed at the end of 1895. The administration took office for the first time on January 24, 1896, as can be read on the memorial plaque in the entrance hall. The project was designed by engineer Carlo Baglioni, who chose "ashlar" as the facade cladding of the palace, in tribute to the famous Florentine Renaissance palaces, and sandstone, probably from the nearby Caprolo quarry, as the material for the facade. In the entrance of the palace are also the coats of arms of the Podesteria della Lega della Val di Greve, dating from the late 1400s to the 1700s, and the four plaques commemorating the citizens of the municipality who fell during the Italian -Abyssinian war, the Italo-Turkish war and the two world wars.
Source: Willem Vandenameele
More about this place of interest

<iframe src="https://plugin.routeyou.com/poiviewer/free/?language=en&amp;params.poi.id=8307298" width="100%" height="600" frameborder="0" allowfullscreen></iframe>

Try this feature for free with a RouteYou Plus trial subscription.