Author: Ayutthaya Historical Research

| | Public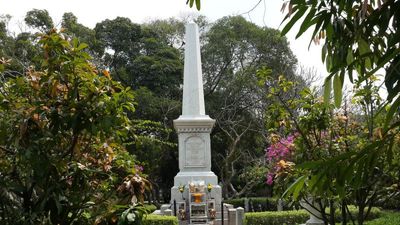 Source: Ayutthaya Biking Adventure
Sunandha Kumariratana, born in 1860, was a daughter of King Mongkut (Rama IV) and Princess Consort Piam Sucharitakul. She was a half-sister and the first queen consort and one of four queens of King Chulalongkorn (Rama V). On 31 May 1880 Queen Sunanda Kumari Ratana, pregnant at that time and her 15 month old daughter Princess Kannabhorn Bhecharatana drowned when their boat sank in the Chao Phraya River at Bang Phut in Pak Kret District (Nonthaburi), while on the way to Bang Pa-In Palace. The Palace Law, dating from the Ayutthayan era, was harsh. All staff had to leave immediately the boat when the queen's barge sinks. The staff was only allowed to extend battering rams and throw coconuts to cling to. They were forbidden by law on pain of death to touch the queen, not even to save her life. Apparently coconuts where thrown to her to cling on, but she was unable to reach them as she could not swim.
More about this place of interest
Try this feature for free with a RouteYou Plus trial subscription.