ABA - The Korat Biking Express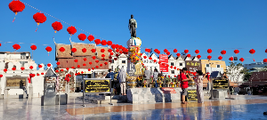 This group lists four bicycling tracks from Ayutthaya in Central Thailand to Nakhon Ratchasima (Korat) in Northeast Thailand. All the bicycle tracks are part of The Korat Biking Express Bicycle Tour. The route goes over Saraburi, Phatthana Nikhom District of Lopburi Province and Dan Khun Thot District of Nakhon Ratchasima Province. The route is about 300 Km long and is more or less the fastest way to cycle to Korat.
Ayutthaya Biking Adventure [ABA] is a sportive subsidiary of Ayutthaya Historical Research [AHR]. ABA's objective is to promote bicycle tourism in and around Ayutthaya. Bicycling is the perfect outdoor recreation to explore Ayutthaya's city island and its surroundings.
Filters
Show routesShow places of interest

<iframe src="//plugin.routeyou.com/mapsearch/free/?language=en&amp;params.group.id=50182" width="100%" height="600" frameborder="0" allowfullscreen></iframe>

Try this feature for free with a RouteYou Plus trial subscription.
© 2006-2023 RouteYou - www.routeyou.com