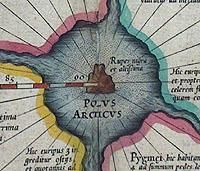 The Rupes Nigra ("Black Rock"), a phantom island, was believed to be a 33-mile-wide magnetic island of black rock located at the Magnetic North Pole or at the North Pole itself. It purportedly explained why all compasses point to this location. The idea came from a lost work titled Inventio Fortunata, and the island features on maps from the sixteenth and seventeenth centuries, including those of Gerardus Mercator and his successors. Mercator describes the island in a 1577 letter to John Dee.
More about this place of interest

<iframe src="https://plugin.routeyou.com/poiviewer/free/?language=en&amp;params.poi.id=883430" width="100%" height="600" frameborder="0" allowfullscreen></iframe>

Try this feature for free with a RouteYou Plus trial subscription.