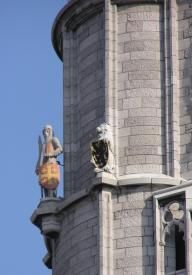 The belfrey acted as a watchtower and was populated by a hand-full guards. In case of fire or other danger, these men sound the storm bell, called "Klokke Roeland".
These guards were replaced later on, by stone copies . You can see a set of four on the corners of the belrey. They became the symbol of a local bank "Gemeentekrediet", and where called by the locals as "Gemeentenaarkes".
They are also called the "pot-crappers" or "kanneschijters" because of the following reason: they had to climb about 200 stairs before they reached their post. Because they wre not allowed to leave their post, they had to find a solution for the "full bladder"-problem. Therefore, they took along a pot.
Address
Sint-Baafsplein 17, 9000 Gent, Oost-Vlaanderen, Belgium
More about this place of interest
Try this feature for free with a RouteYou Plus trial subscription.